dubeypk@nplindia.org
Dr. Premshankar Kedarnath Dubey
Designation:
Sr. Scientist
Department:
Physico-Mechanical Metrology
Email address:
dubeypk@nplindia.org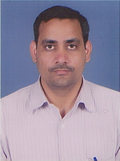 Brief Biodata:
Office :
Room - 139, Acoustics, Ultrasonics and Vibration,
Standards, National Physical Laboratory,
Dr K. S. Krishnan Marg, New Delhi, 110 012 (INDIA)
Phone: +91-11-45608380, Mob: +91 9968408417
premkdubey@gmail.com
Senior Scientist
Keenly interested in design and development of scientific instruments with improved parameters. Presently, working as senior scientist in Acoustics, Ultrasonics, Vibration Standards at CSIR-NPL, India and holding major responsibility in design and development of non-contact ultrasonic material testing instrumentation system using EMAT. The main objective is to measure the time of flight (TOF) with highest possible resolution better than 1 nano seconds.
Area of Expertise
Electronic instrument design

Ultrasonic instrumentation

PC interfacing with circuits

Graphical User Interface (GUI) design

Software development using LabVIEW,
VB, C
Developing measurement techniques

Component testing

Trouble shooting and fault finding

Opto-electronic instrumentation

Instrument cabinet design
Educational Record
| | | |
| --- | --- | --- |
| Ph.D. | Ultrasonic Instrumentation | R.T.M. Nagpur University, Nagpur, India |
| NET | Electronic Science | UGC |
| M.Sc. | Electronics (Instrumentation) | Nagpur University |
Professional Experience
Place of Work

Area of experience

Designation

Period (Dates)

From

To

Ultrasonics Division,

National Physical

Laboratory (CSIR-NPL), New

Delhi, India

Maintaining

Ultrasonic Standards and working for the improvements

Senior Scientist

May 2012

Continued

SMM College of Science,

Nagpur University College

Teaching B.Sc.

Electronics and

Research

Assistant Professor

Aug 2010

May 2012

Ultrasonics Division,

National Physical

Laboratory (NPL), New

Delhi, India

Ultrasonic

Instrumentation and

Applications

CSIR- Research

Associate

April 2009

July 2010

RASD, National Physical

Laboratory (NPL), New

Delhi, India

LIDAR design and development

Research Associate (Project)

April 2008

march 2009

RASD, National Physical

Laboratory (NPL), New

Delhi, India

LIDAR design and development

S. R. F.

March

2007

April 2008
Professional Experience
Unique Micro pulse lidar (commonly known as laser radar) with dual polarization detection facility has been indigenously developed at NPL, India. The lidar system has Best vertical resolution of 75 cm.

Novel Single PMT based dual polarization detection technique developed at NPL, India and successfully applied to the developed micro pulse lidar.

Established EMAT based non contact NDT facility at NPL, India

Technique invented to measure the ultrasonic velocity with improved accuracy in pulse echo setup.

Developed Electromagnetic Acoustic Transducer (EMAT) for non-contact testing of conducting materials
Research Publications
Journal Publications
| | |
| --- | --- |
| No. of Publications | 13 |
| SCI Journals | 11 |
| Non-SCI Journals | 02 |
Papers Presented at the Conference 30+