rkkotnala@nplindia.org
Dr. R. K. Kotnala
Designation:
Chief Scientist
Department:
Materials Physics and Engineering
Email address:
rkkotnala@nplindia.org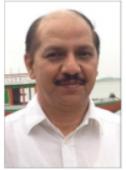 Brief Biodata:
Brief Biodata of Prof R K Kotnala
A Revolutionary Ground Breaking Invention of Green Energy Device by Dr R K Kotnala & Dr Jyoti Shah
I would like to apprise of our revolutionary invention of green energy device of Hydroelectric Cell working, which is India's pride. It generates electricity instantly using water only with no acid /alkali. For electricity generation it does not require any light, electrolyte, catalyst and external energy. This invention has been covered in news about 76 times in different newspapers & NDTV,DD National,Rajya Sabha TV, etc even at international level during last 3 months only. Although Hydroelectric Cell invention news has been published extensively in The Hindu, Indian Express, The Telegraph, Deccan Chronicle, Economic Times, Rajasthan Patrika, Jagran Josh, DNA, Mail Today etc. including 12 foreign newspapers.
Top Energy magazines internationally have covered Hydroelectric Cell invention news recently - Energy News, Science World Report, Sciexaminer, ET-World Energy etc.
Global Leadership in Hydroelectric Cell ( HEC ):
It is exclusively a make in India energy device and its further development can place Hydroelectric cell in global leadership for green energy solution. The energy produced by HEC can be utilized in domestic residential applications in decentralized mode at low cost because conventional usage of electrical energy is associated with huge expense of electrical transmission and distribution. Production and usage of such cells is not capital intensive unlike electrical power generation systems.
Paradigm Shift in Green Energy:
A Green Energy Source with a potential to replace conventional solar/fuel cells.
It can be used as power source in rural area as phone charger, lighting of lamp, torch etc.
Fabricated hydroelectric cell of dia 4.8 cm has generated current density of 5 mA/cm2 and 950 mV voltage with maximum power of 74 mW. The Processing cost of the cell is quite low & economical.
Highlights of Major Scientific Contributions of Dr. R. K. Kotnala
Dr. R.K. Kotnala is currently Chief Scientist and Head of Environmental Sciences & Biomedical Metrology Division and possesses expertise in the area of Electronic Materials, Sensors & Devices such as Multiferroics, Nano-Ferrite, Dilute Magnetic Semiconductor, Spin Hall Effect, Humidity Sensor and Solar Cell. Hydroelectric Cell - A Green Electrical Energy Device & Environment Sciences related to climate change.
Dr.Kotnala obtained Ph.D on Silicon Solar Cell from Indian Institute of Technology,IIT Delhi.
A cquired diversified experience as distinguished specialist in Energy, Materials Scientist with intimate interaction to support 112 Industries to provide them industrial solution based on ISO:17025. Interaction with 17 Universities & 6 IITs. Published over 352 research papers in SCI journals + more than 360 invited talks + 110 papers in Conferences.
403 citations in last 4 months 2017 alone, besides 11 US/ Indian patents,+11 industrial consultancies + 4 books and 4 chapters in international books.
[Published papers in: Angewantde Chemie, Physical Review Letters, Physical Review B, J. Materials Chemistry, Nanoscale, J.Physical Chemistry C, Sensors & Actuators Chem B, Scripta Materials, Appl. Phys. Lett, J. Appl. Phys, RSC Advances, J. Alloys & Compounds,Int J Energy Research.
Recognition as Distinguished Scientist Globally:
Associate Editor, J.Applied Physics, American Intitute of Physics, USA since 2014.
Associate Editor,Institution of Engineering Technology IET Journal SMT, London, U K since 2016.
Outstanding Academician - APAM, Asia Pacific Academy of Materials,[ It is a recognition as outstanding specialists in material science and technology who have made significant contributions to cooperation in Asia-Pacific Region] 2012.
A Handbook on Magnetic Materials, Vol. 23, 2015 has been published by Elsevier North-Holland Largest scientific publisher of US wherein contributed a chapter of 91 pages on: FERRITES: Nano-Materials to Spintronics.
Office of Naval Research (ONR), Washington, USA had entrusted in my work on multiferroics for development of electromagnetic sensor with Italy group and awarded 0.105 million $ US as a contract project in 2011.
Ethical Issues on Nanotechnology: (Making cautious on environmental pollution implications of engineered nano-materials, of possible ways to handle materials as nano hazards). Formulated Ethical Codes for first time published Chapter in Nova Science, New York 2009.
Chairman Program Committee. Global Conference on Materials Science and Engineering (CMSE 2013) to was held in Shanghai, University of Science and Technology in China, during Nov, 2013. Besides Chaired sessions in many international Conferences.
Project Coordinator of Super Technical building works related to seven SI base units in a newly created Metrology building based on ISO: 17025 ( 12500 Sqm) super technical 5th Lab in world 2010-14.
Established two Labs at international level : A laboratory for primary standards for 10 magnetic measurements parameters in the preview of ISO:17025 for International Bureau of Weights & Measure, (BIPM) rance. Also established an advanced R&D lab, state-on-art, on "Multiferroic,Spintronics & Magnetics Standard" at NPL.
Leading Environmental Sciences group working for national mission to create inventory of atmospheric data & to calibrate equipments used in the measurement of air pollutants gases, particulate matter PM 2.5, green house gases for climate change.
National Rare Contributions:
Guided & Worked for creation of new department of Advanced Materials & Nanoscience in 5 Universities.
CSIR-Research initiatives on Nano Sensors & Devices Project Coordinator from 2012 -17.
Disseminating more awareness of Ethics in Science, Secretary of SSV, Society for scientific Values, for last 7 years.
Recipient of MRSI Medal Award 2008 in Material Science (Magnetic Materials).
Chairman, committee on Magnetic Materials of Materials Research Society of India (MRSI), Bangalore since 2012. Currently Vice President, Magnetic Society of India since 2008, and
President, Nano-Biotechnology Society of India since 2012.
Besides academics Dr. Kotnala is a member of Academic Council, BoS of Universities and Court of University/ Governing Council of Technical Universities/Colleges/Institutions. Chaired sessions in international & national conferences.
Convener-Organized Science Festival IISF 2016 for 9300 registered delegates along with a foot fall of 1.5 Lakhs public in 5 days during Dec 7-11, 2016 at Delhi
Planned & Guided Protection of Human Health & Environment from Microwave Radiation. EMI/EMC Test Facility in EQDC, Gandhi Nagar Gujarat, for environmental protection of human health from EMI & magnetic radiation emission test from electronic equipments & automobiles 2009-12.
Circumvented the Menace of Electrical Energy Theft: Magnetic tempering proof energy meters were developed with new technical specifications 1999-2001.
Chairman, committee on Magnetic Materials of Materials Research Society of India (MRSI), Bangalore.
Editorial Board Member of J. Nanoparticle Research, Springer Publishers.
President, Nano-Biotechnology Society IIT Mandi.
Committee Member, National Mission on Strategic Knowledge for Climate Change due to National Mission Projects - National Solar Mission, Enhanced Energy Efficiency & Clean Coal Technology by Deptt. of Science & Technology, DST.
Governing Council Member, Electronics & Quality Development Centre (Min. of IT & Communication), Gandhi Nagar and Vadodara.
Court of University, D.C.R. Univ. Sci. & Tech. Murthal
Chairman, committee on Magnetic Materials of Materials Research Society of India (MRSI), Banglore.
UGC nominee in the Governing Council of G.Pulla Reddy Engg College (Autonomous) KURNOOL - 518 002, A.P
Advisory member in several international and national conferences.
Chairman/expert member of different national level committees of DST, CSIR, DRDO, Solar Energy Centre, JNU, IITs, Universities & UPSC.
MRSI Medal Award 2008 in Material Science (Magnetic Materials).
On Sept. 26, 2008 CSIR Foundation Day Celebrations an outstanding R&D NPL team award judging it as science for society cause to do away energy meters tampering.
Vice President, Magnetic Society of India.
Visiting Scientist– 1989-90, Tokyo Institute of Technology, Tokyo.