MAGNETIC METROLOGY SECTION, DP# 6.03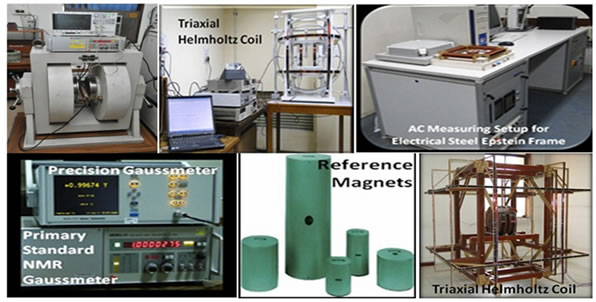 This activity is responsible for maintaining and upgrading National Standard related to magnetic parameter like Magnetic flux Density, Magnetic flux, turn area of search coil, power loss measurement of electrical steel, through continuous development and providing calibration/test facilities of such parameters to industries and institutions as per ISO/IEC: 17025 guidelines which are traceable internationally. We are also trying continuously our best possible efforts to improve further uncertainty of measurement so that we can provide best calibration/test results with minimum error. Our group provides solution to industrial problems also industrial consultancy.
CALIBRATION & TEST FACILITIES AVAILABLE:
Calibration of permanent Magnet
Calibration of AC/DC Gaussmeter
Calibration of Magnetic field indicator
Calibration of low field magnetometer
Calibration of Helmholtz Coil
Calibration of Fluxmeter
Calibration of Turn area of search coil
Testing of AC/DC electromagnet
Power loss measurement of Electrical Steel
Magnetic Radiation Measurement
The second major activity of our group is actively involved in research on Magnetic materials, Multiferroic materials, Spintronic, Magneto Resistance materials for development of magnetic sensor.
RESEARCH ACTIVITIES:
Materials R & D for Magnetic Metrological Applications.
R & D on Magneto resistance based Material.
Thin Film Preparation by RF sputtering & spin coater Facility.
SCIENTIST AND TECHNICAL STAFF:
Dr. Anurag Gupta, Sr. Principal Scientist
Dr. C. K. Suman, Scientist
Mr. Anurag Kr. Katiyar, Technical Assistant
Mrs. Abha Shukla, Technical Assistant
Mr. Mange Ram, Sr. Technician-II
Mrs. Manno, Work Assistant
Contact
Dr. Anurag Gupta
Sr. Principal Scientist & Head,
Magnetic Metrology Section
CSIR-NPL, New Delhi-110012
Email: anurag@nplindia.org
Ph: +91 4560 8224