kushvahas@nplindia.org
Dr. Sunil Singh Kushvaha
Designation:
Senior Scientist
Email address:
kushvahas@nplindia.org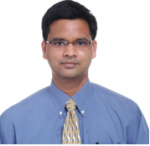 Brief Biodata:
Name: Dr. Sunil Singh Kushvaha
Designation: Senior Scientist and Assistant Professor (AcSIR)
Division: Electrical and Electronics Metrology
Email: kushvahas@nplindia.org
Sub-Division: Quantum Resistance Metrology and 2D Physics Group
Phone: +91-11-45609329 Fax: +91-11-45609310 (O)
Educational Qualifications:
Degree
Subject
University/Institute
Year
Ph. D.
Physics
National University of Singapore,  Singapore
2008
M. Tech.
Solid State Materials

Indian Institute of Technology Delhi,

New Delhi, India

2002
M. Sc.
Physics
Banaras Hindu University, Varanasi, India
2000
Academics/Research Experience:
Year
Duration
  Research field
  University / Institute
  Position
Sept 2015 -
Till date
Growth and characterization of Magnetic topological Insulators and III-nitrides film and heterostructures
CSIR - NPL, Delhi India.
Senior Scientist
Sept 2011
4 Years
GaN based LED and solar cell devices, MBE system,  Laser MBE, UHV-STM/AFM
Physics of Energy Harvesting, CSIR - NPL, Delhi India.
Scientist
Dec 2008 - Aug 2011
2 Years 
9 months
Thermoelectric power measurements using UHV-AFM technique, Superlubricity machine
A*-STAR, Institute of Materials Research and Engineering, Singapore
Scientist 1
July 2007 - Nov 2008
1 Year 
5 months
Magnetic nanostructures, MFM, SEMPA, Four-nanoprobes, SP-STM
Department of Electronics and Computer Engineering, NUS, Singapore
Post-doc
No. of Publications:
| | | | |
| --- | --- | --- | --- |
|     SCI Journals |      Conference proceedings |       Books |      Total |
|           51 |                     10 |  5 Book Chapters |         66 |
Current Activity :
Growth and characterization of magnetic doped topological insulators, Magneto-transport studies on graphene and various 2D materials, III-Nitride based 2DEG, Maintenance and upgradation of QHR based primary resistance metrology.
Indigenous development of Quantum Hall devices for primary resistance standards
Principal Investigator of SERB-DST funded project "Structure/microstructure-magnetotransport correlations in sputtered magnetically doped Bi2Se3 Topological Insulator thin films" for QHR applications.
Honours and Award:
Early Career Research Award for SERB-DST, May 2018
NUS Research Fellowship (July 2007-Nov 2008)
NUS Research scholarship (August 2003 – July 2007).
Institute scholarship granted by Govt. of India (2001-2002).
Graduate Aptitude Test in Engineering (GATE) - 2001, with 93.36 percentile.
Qualified in national level CSIR-UGC(JRF) examination in July 2001.
04 Best Poster Awards in International and National Conferences/Symposiums
Any other information:
Reviewer of various journals: Nanotechnology, ACS Appl. Mater. Interface, RSC Adv., Appl. Phys. Lett., J. Appl. Phys., J. Phys. D: Appl. Phys, Semicond. Sci. Tech, Mater. Res. Exp., J. Nanosci. Nanotechnol., Journal of Nanomaterials, Indian Journal of Engineering & Materials Sciences.
MEMBERSHIPS
Life Member, Material Research Society, India.
Life Member, Indian Physics Association, India.
Member, Material Research Society, Singapore (2003-2013).