shuklaak@nplindia.org
Dr. Ajay Kumar Shukla
Department:
Physics of Energy Harvesting
Email address:
shuklaak@nplindia.org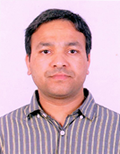 Brief Biodata:
DP/DU No. and Name: 1.05, Physics of Energy Harvesting
Current position and Address:
Scientist, Physics of Energy Harvesting
Room No. 7, 9B and 16, TEC Building,
National Physical Laboratory,
Dr. K.S. Krishnan Road,
New Delhi-110012
Educational Qualifications:
| | | | |
| --- | --- | --- | --- |
| Degree | Subject | University/Institute | Year |
| Ph. D. | Physics | UGC-DAE Consortium for Scientific Research, Indore, India / Devi Ahilya Bai Vishwavidyalay, Indore, India | 2008 |
| M. Sc. | Physics | Jiwaji University, Gwalior, India | 1999 |
Academics/Research Experience:
Year

Duration

Research field

University / Institute

Position

Sept 2011 - present

Till date

GaN based LED and solar cell devices, MBE system, Photoelectron Spectroscopy, Low Energy Electron Diffraction and Scanning Tunneling Microscopy

Physics of Energy Harvesting, CSIR - NPL, Delhi India.

Scientist

Feb 2010 - Sept 2011

1 years 7 months

Electronic structure of III-Nitrides and Oxides using angle integrated and angle resolved photoemission spectroscopy, Many-body effects in quantized semiconductor electron accumulation layers

University of Warwick, Coventry, UK

Post-doctoral

Fellow

Dec 2007 - Dec 2009

2 years

Quantum size effects in thin metallic films on quasicrystalline and complex alloy surfaces using photoemission spectroscopy, scanning tunnelling microscopy and low energy electron diffraction

LSG2M, Institute Jean Lamur, CNRS, Nancy, France

Post-doctoral

Fellow
Date of Joining NPL: 14 September 2011
No. of Publications:
| | | | |
| --- | --- | --- | --- |
| SCI Journals | Conference/ proceedings | Books | Total |
| 35 | 11 | | 46 |
No. of Patents: NIL
Current Activity:
Electronic structure of III (Al, Ga, In) –Nitride semiconductors and Oxide surfaces.
Quantum size effects/Quantum well states in thin films.
Electronic structure of thermoelectric compounds.
Electronic structure of oxide heterstructures and surfaces.
Honours and Award:
Senior Research Fellowship sponsored by CSIR (2005 – 2007)
Senior Research Fellowship sponsored by DST (2004 – 2005)
Junior Research Fellowship sponsored by DST (2002 – 2004)
National Eligibility Test for Lecturership, jointly conducted by University Grants Commission and Council for Scientific and Industrial Research (CSIR), Government of India (2001).
Any other information:
Experimental techniques and experience:
Photoelectron Spectroscopy: Angle Resolved Photoelectron Spectroscopy (ARPES) using lab source and synchrotron, X-ray Photoelectron Spectroscopy (XPS) using lab and synchrotron source, Ultra-violet Photoelectron (UPS) Spectroscopy.
Variable Temperature (liquid He to 600 K) Scanning Tunneling Microscopy (STM).
Low Energy Electron Diffraction (LEED).
k-Resolved Inverse Photoemission Spectroscopy (KRIPS)
More than 9 years of experience of designing, installing and handling of Ultra-high vacuum systems.
Experience of handling sophisticated multi-technique (ARPES, XPS, UPS, STM, LEED) surface science experimental stations as main responsible. Experience of working with large scale facilities like Synchrotron sources.
Experience in fabrication:
Knudsen-cell: A versatile Knudsen type effusion cell has been fabricated for growing nanostructures and epitaxial layers of metals and semiconductors. The details have been published in Rev. Sci. Instrum. 75 , 4467 (2004).
Inverse photoemission spectrometer: A k-resolved inverse photoemission spectrometer using Geiger-Muller type gas filled detector Stoffel-Johnson type electron gun and has been fabricated to study the unoccupied band structure of solids. Details have been published in Rev. Sci. Instrum., 76 , 066102 (2005) and Current Science, 90 , 490 (2006).
Blood Group: A+
Employ ID: 5061